"Morrison"
50-40-30-20-10 reps for time of:
Wall Balls (20/14)
Box Jump with step down (24/20)
Kettlebell Swings (24/20)
Time Cap: 35 minutes
Note: 7 PM class is canceled tonight!
Warm up: DIY
A. Find Max Set of Unbroken Muscle ups in 2 attempts

B. "Lumberjack 20″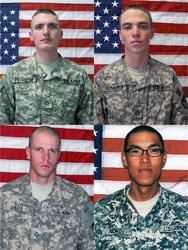 On Nov. 5 2009 at 1:34 p.m., a terrorist named Major Nidal Hasan attacked fellow soldiers and civilians at Fort Hood, TX. He killed 12 soldiers and one civilian and wounded 43 others. – Spc. Frederick Greene, 29, of Mountain City, Tennessee, Pfc. Aaron Thomas Nemelka, 19, of West Jordan, Utah, Pfc. Michael Pearson, 22, of Bolingbrook, Illinois, and Spc. Kham Xiong, 23, of St. Paul, Minnesota, along with eleven of the wounded were active CrossFitters in the 20th Engineer Battalion, home to Lumberjack CrossFit.
For time:
20 Deadlifts (275/185)
Run 400 m
20 Kettlebell Swings (32/24)
Run 400 m
20 Overhead Squats (115/75)
Run 400 m
20 Burpees
Run 400 m
20 Chest to Bar Pull ups
Run 400 m
20 Box Jumps (24/20)
Run 400 m
20 Dumbbell Squat Cleans (45/30)
Run 400 m
"Nancy"
5 Rounds for time of:
400 m Run
15 Overhead Squats (95/65)
Monday 6/29
A. Good Morning Push Press 4×3
B. Jerk Rhythm
C. Jerk from Rack, 5 second pause in receiving position 10×1
Tuesday 6/30
A. From High Blocks, Clean + Front Squat  3×2+2
B. From Low Blocks, Clean + Front Squat 3×2+2
C. From Floor, Clean + Front Squat 3×1+1
Wednesday 7/1
A. Snatch with high hips 4×2
B. Snatch 5×1
Thursday 7/2
A. Back Squat 3×3, 3×2
B. Clean Pull to Thigh + Clean 4×2+1, 3×1+1
Sunday 7/5
A. Muscle Snatch + Good Morning Push Press + Overhead Squat 3×3+3+3
B. Snatch from Hip 3×3, 2×2, 3×1